Paris en Scene - New Year's Eve 2024
New Year's Eve Paris Dinner Cruise 2023
Instant confirmation

Best price

Sells out fast
What to expect
Paris en Scène offers 2 cruise departures to celebrate New Year's Eve in Paris in style: musical entertainment, a special New Year's menu, a 1h45 cruise. Whether you eat early or stay up late, the cruise will certainly seduce you!
Schedule
New Year's Eve Cruise
New Year's Eve Dinner Cruise 7:30 p.m.
New Year's Eve Dinner Cruise 10:00 p.m.
Access to boarding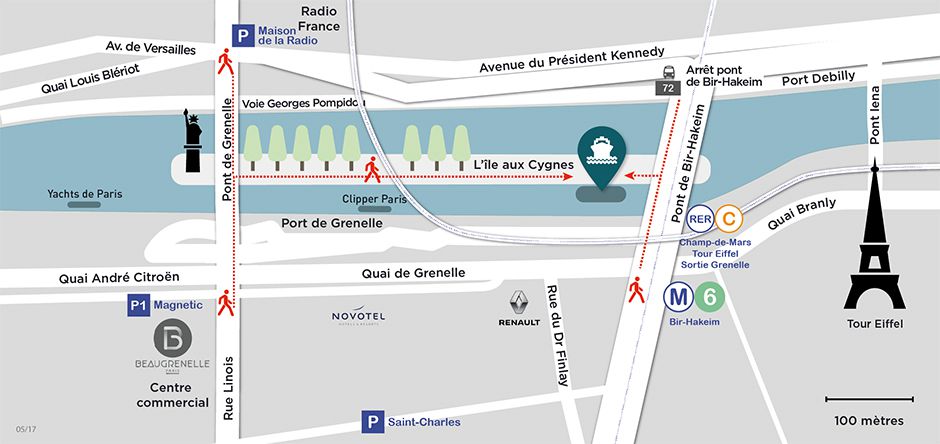 Group quotation
Are you planning an event for a group of more than 10 people?
For a private booking, a meeting or a party with friends, send us your detailed request. An expert from Come to Paris will send you a personal reply within 2 working days.
Customer Reviews
Christine P.
Published over a year ago
The experience of seeing, touching, and standing in the awesome spiritual presence of African American giants has given me a more informed dialogue about my history and how to communicate that in my classes. The tour guides knowledge and professionalism made the experience quite unique. I can hardly wait to share with others )
Robert S.
Published over a year ago
I decided to bring my wife to Paris for her 30th birthday and we weren't disappointed. Not only was our hotel situated in one of the finest districts of Pairs, but the weather was also fantastic. For part of her birthday, I booked a table on the Bateaux Parisiens for an evening meal. The food was outstanding. We were served and attended to be the excellent Thomas and to cap off a perfect evening, the views were simply stunning. I would recommend ANYONE to reserve a place on this wonderful trip. The whole trip was sublime. Thankyou very much for organising this amazing treat!
Scott N.
Published over a year ago
My business partner and I came across this dinner cruise about a year ago and have enjoyed it 4 times now, bringing friends and relatives each time we come to Paris. It is now a Paris tradition for us, one of which we will enjoy again and again. The food is delicious, the price is the most reasonable (29 euro) and the staff is extreemly professional and hospitable. Dinner en Scene should be better publicized and signs more visable to make it easier to find. Other than that ...See you again soon our new friends!
Jamie Turner Q.
Published over a year ago
The whole experience was excellent with regard to the boat (beautiful), the food and wine (much better than one would expect from a boat), the friendliness of the staff (in advance and on the night).
There were two things which could have been better - the weather which was not with CometoParis' control and more importantly there was not enough drink included in the package (the champagne was all gone within the first hour). We were able to pay extra for more but the way this worked was painful as at the end of the night they wanted me to go to a different venue in order to pay - This could have ruined the evening for me but in the end I insisted and they brought a card reader to the boat.
It was however the only drawback to the wonderful evening and I would recommend CometoParis in the future. Next time I would make sure that there was more booze booked in advance and the payment should have been made simpler.
Paul & Carol H.
Published over a year ago
Our dinner cruise was fantastic! Your personnel are very professional in their efforts. The food was excellent and the desserts were too much! (quite incredible). The music was most enjoyable and the combination of the sights of Paris and the pleasure of your dinner cruise will last a lifetime as a positive memory for us, Thanks for the good things you provide. Paul Hughes
Jodi and B.
Published over a year ago
Our stay in Paris was wonderful and the dinner cruise was more than I had hoped for. You made what I had hoped to be a special night with my husband and absolutely the most romantic night we have had in our 15 months of marriage. Thank you so much for making our trip so memorable. We will recommend your company to anyone we know who might be traveling to Paris. Thank you again,
Thomas W.
Published over a year ago
all the infomation was easily available and the phone support was superb. thank you
Paula N.
Excellent service!
Published over a year ago
I would definitely reccomend this river cruise! Great service and great experience overall!
Alice
Great affordable boat trip
Published over a year ago
I booked this over the Internet so was unsure what to expect. The trip was great- good sightseeing, good food and they kindly accommodated the vegetarian in our group. Service was prompt and staff were polite. Would highly recommend for the price.
Map
Address
Ile aux Cygnes
75015 Paris
Parking lot

Pont de Grenelle - Maison de la Radio, 12-14 Avenue du Président Kennedy - 75016 Paris
Public transportation

Bir-Hakeim Grenelle
Avenue du President Kennedy - Maison de Radio France

Pont De Bir-Hakeim